International wine Cellar - July/August 2003
2001 Domaine Christian Moreau Pere et Fils Chablis: 87
Somewhat blurry but nuanced nose combines lemon, honey, smoke and wet stone. Slightly dry-edged but brisk flavors of apple, spice and quinine, with sound framing acidity. Refreshing, lightly bitter-edged finish comes across as firmer than that of the 2000.
2001 Domaine Christian Moreau Pere et Fils Chablis Vaillons : 89
Purer, higher-pitched aromas of lemon cream, spice and talc. Dense, sweet and expansive, with lively lemon and spice flavors. A smooth wine with very good palate presence; the 30% barrique component adds a touch of sweetness to the wine. Concentrated, ripe and persistent; already becoming accessible.
2001 Domaine Christian Moreau Pere et Fils Chablis Clos: 91
Laid-back but nuanced nose combines pineapple, fresh herbs, vanilla and spices. Large-scaled, dry and minerally, with rich flavors of pineapple and wet stone. Broad and smooth, if a bit closed today in the middle palate. A very stylish, clean 2001, with impressive, slow-building length. More successful in the context of the vintage than the 2000 Clos.
2002 Domaine Christian Moreau Pere et Fils Chablis: 88
Fresh apple and pear aromas, with a hint of banana. A fat, sweet, easygoing fruit bomb in a crowd-pleasing style; ripe and round, with sound, harmonious acidity. Finishes long and sweet, with notes of pineapple and dusty stone.
2002 Domaine Christian Moreau Pere et Fils Chablis Vaillons: 89-92
Brisk aromas of lemon cream and wet stone. Sweet and lush but firm, with snappy lemon cream flavor of noteworthy purity. Offers lovely sucrosity leavened by lively acidity. Finishes pure, vibrant and long. From vines averaging 40 years of age.
2002 Domaine Christian Moreau Pere et Fils Chablis Vaillons Guy Moreau: 91-93
Highly aromatic nose combines crystallized lemon peel and wet stone. A step up in density and texture; offers superb fat without excess weight but comes across as more closed, and less filled in, than the regular Vaillons. Shows a lovely balance of alcohol and acidity. Unfolds slowly on the very long, subtle finish. An outstanding premier cru in the making.
2002 Domaine Christian Moreau Pere et Fils Chablis Clos: 93-96
Pale, green-tinged color. Very subtle, complex aromas of lime blossom, lemon, talc and spices. Quite bright on entry, then dusty and spicy, with uncanny lightness of touch. A very suave, horizontal wine that expanded impressively as it opened in the glass. Extremely subtle finishing flavors of grapefruit and liquid stone. Another strong argument for the superiority of this grand cru.
2002 Domaine Christian Moreau Pere et Fils Chablis Valmur: 92-95
Pale, green-tinged color. Spicy, peppery aromas of snap pea, crystallized citrus peel and flint. More powerful today and less elegant than the Clos, with strong acidity giving it a youthful austerity. But this big, chewy, structured wine shows outstanding freshness and length. Here the oak complements but does not overwhelm the wine's material.
2002 Domaine Christian Moreau Pere et Fils Chablis Vaudesir: 91-93
Reticent, soil-inflected aromas of pineapple and wet stone. Creamy and suave on entry, then rather austere in the middle palate owing to its racy acidity. The mostly obviously mineral but least dense of these 2002s today, with strong pineapple and spice flavors and great suavity. Finishes impressively long and firm-edged. This was just moved to barrel after being vinified entirely in tank. A remarkable grand cru in the making, considering that it's from four-year-old vines; but the crop level here was kept to 43 hectoliters per hectare.
2002 Domaine Christian Moreau Pere et Fils Chablis Blanchot: 90-93
Sweet, concentrated and lemony, with a very fine texture and almost painful flavor intensity. Showing a lot of oak spice today, but also distinctly chewy and minerally underneath. A very young, suave, long wine of considerable class. Blanchot is closest to Les Clos in finesse, notes Moreau.
2002 Domaine Christian Moreau Pere et Fils Chablis Clos des Hospices: 91-93
Captivating, vibrant nose dominated by lemon and spice. Creamy-sweet, supple and ripe in the mouth; almost shockingly open and accessible (this will go back into barrel, says Moreau). The biggest, richest and silkiest of these 2002s, but not as subtle or nuanced as the "regular" Clos.

International wine Cellar - July/August 2002 - Issue 103
2000 Chablis : Pale green-tinged yellow. Subtle aromas of wat stone, white flowers, mint, nuts and spices. Round and ripe for village Chablis, with a note of earth. Finishes with decent lengh. 86.
2000 Chablis Vaillons: Ripe aromas of apple blossom, acacia flower, butter and grain. Fat, dense and rich but suave, with lovely vinosity framing and extending the ripe flavors. This has size and dimension for premier cru. very persistent, pineappley finish. 90.
2000 Chablis Clos : Very pale color. Apple, minerals, mint, smoke and a hint of ginger on the nose. Rich but youthfully unforthcoming, but already coats the mouth with wet stone flavors. Has the long, firm-edged finish of classic Clos but shows a bit less definition and structure than I would have expected fot this wine in this vintage. Not quite as good for Clos as Moreau's Vaillon is for Vaillons. 90 (+?).

Edward Deitch's NBC Wine of the Week - 13 Juin 2002
Here is a great example of white Burgundy that won't deplete your wine budget and will work beautifully with light summer dishes, especially fish. It's a simple, delicious Chablis, and I'll tell you which one in a minute. (...)A classic example of regular Chablis is the 2000 from Christian Moreau Père et Fils, which I had the other night with a quick dinner of gray sole broiled with white wine and fennel seeds.
The bottle had been in the refrigerator for a day or so, which made the wine too cold at first, obscuring the flavors (Chardonnays in general are best served cool, not cold). A few minutes later and a few degrees warmer, the true colors began to show: a slightly flinty and citrus aroma, subtle lemon, pineapple and mineral tastes — and I didn't miss oak in this wine for a minute. It complemented the fish flavors well, enhancing the nuttiness and subtle licorice taste of the fennel seeds.

Article published in the French magazine Capital (May 2002)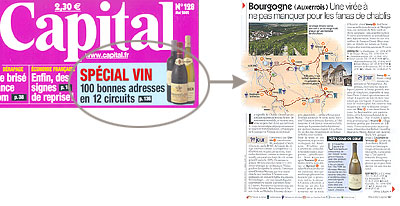 Click on the Picture to read the article (in French)

Christian Moreau Père & Fils Chablis AC 1999

85 Points
Wine Spectator

31 May 2001
Nice harmony in this medium-bodied, tropical-tasting Chablis. Delivers lemon and passion fruit and a clean, pure character. Succulent finish. Drink now through 2002.



Silver Medal
Old Ebbitt Grill


16 Nov 2001


2001 SILVER MEDAL WINNER
6th Annual Oyster Riot


Christian Moreau Père & Fils Chablis AC 2000

FOUR STARS
Spirit Journal


01 Dec 2001


How chardonnay should be: razor crisp, tart, refreshing, and minerally. SJ Rating- FOUR STARS (out of five)



Wine Finds
Robert Whitley


21 Nov 2001


One of the best chardonnay values available today. Full-bodied, ripe, and fleshy, this wine shows fruit nuances of apple and peach with an appealing minerality in the background. it compares favorably with the producer's premier cru Vaillon at nearly twice the price.



Oysters & Chablis
Boston Globe


13 Mar 2002


Lively, sweet fruit aroma; some chalk and flint; there's body here and some gripping acidity; nifty all around oyster wine.



14.5/20
Weinwirtschaft (Germany)


Nov 2001


Limette und pamplelmusse; Zitrusfrüchte und granny smith, gute mineralnote


Christian Moreau Père & Fils Vaillon Premier Cru 1999

91 Points
Wine & Spirits
Exceptional


01 Jan 2001


As tight and closed in as this wine may be, it's also bold, the strong personality already showing in a muscular fruit component. The more air it gets, the more the fruit grows from dry pear to a riper, juicier tone. The toasted lees flavors broaden, not yet complex, but likely to move in that direction as the wine develops, probably best at six to eight years of age.



Oysters & Chablis
Boston Globe


13 Mar 2002


Big, bright, and appley with a wisp of smoke. Poised. Keenly appetizing.




Christian Moreau Père & Fils Vaillon Premier Cru 2000





15/20
Weinwirtschaft (Germany)


November 2001


Komplex, Röstarmonen, Brioche, Zitrusfrüchte, auch am Gaumen; nervig, viel Zukunft


Christian Moreau Père & Fils Les Clos Grand Cru 1999

90 Points
Wine Spectator


31 Aug 2001


Beautiful Chablis, structured and showing a core of lemon, lime, pear and green apple. Lots of mineral and even a bit earthy, this medium-bodied and intense Chardonnay delivers a long succulent finish. Better than previously reviewed. Drink now through 2006.



Collector's Choice
Detroit News


19 Feb 2001


The vineyards of Chablis form a Burgundian island, lying some 50 miles northwest of the Cote d'Or and seemingly tied to it by little more than tradition and the chardonnay grape. But to experience a sublime Chablis such as Christian Moreau's 1999 grand cru "Les Clos" is to grasp the craftsmanship, finesse and purity that link this outpost to Burgundy's other great center of white wine production, the Cote de Beaune.
Indeed, in its concentration and structural clarity, Moreau's 1999 "Les Clos" bears a striking kinship to the top white Burgundies produced in Puligny-Montrachet -- except that where a Puligny might present a framework of crisp minerality, this Chablis offers an exhilarating core of citrus, both in its aroma and on the palate. It is a big, luxuriously textured, patrician wine that only a Puligny grand cru could match.
Perhaps best of all, Moreau's 1999 "Les Clos" is absolutely ready to drink now. A genuine jewel, at a fraction of the king's ransom demanded for a Puligny grand Cru.




Christian Moreau Père & Fils Les Clos Grand Cru 2000





92 Points
Wine Spectator


15 Sept 2002


Fantastic. Rich, thick, ripe and complex. Full-bodied, it really comes on strong, pulling no punches as it fires off its ammunition of lemon and fruit with a force that leaves your palate impressed by the concentration of the attack. Needs years of aging, or a day of decanting, to open up. Best from 2008 through 2020.