Jancis Robinson - www.jancisrobinson.com
Delicious white burgundy to by and drink now - Dec 9, 2006
Once part of the J Moreau operation and still owner of the family vineyards, Christian Moreau, helped by his oenologist son Fabien, is an exciting new domaine in Chablis. Domaine Christian Moreau Père & Fils, Valmur 2004 Chablis Grand Cru is just starting to drink well whereas Domaine Christian Moreau Père & Fils, Clos 2004 Chablis Grand Cru should be cellared for at least three years but is probably an even better buy.

Anthony Gismondi at www.gismondionwine.com (Vancouver, Canada)
Tasted Novembre 22th 2006
Domaine Christian Moreau Chablis Grand Cru Les Clos 2004: 92/100
Floral, lemon, green melon, light garlic lees, seashell, green apple, pear nose with a touch of butter and vanilla. Round, fresh, delicate but full and juicy with green apple, pear, lemon, flint, floral, spicy butter flavours. Delicate with a vanilla, apple skin, citrus finish. Needs 1-2 years more to shine or decant now to open up.
Domaine Christian Moreau Chablis 1er Cru Vaillon Cuvée Guy Moreau 2004: 91/100
Bright nutty floral lees and creamy citrus nose reminiscent of seashells and green apples. Dry, round, ripe and elegant in the mouth with green apple, lees, butter, lemon, anise and mineral seashell flavours. Good concentration and intensity, just a bit more intense than the normal cuvée. Fine now but this will improve over the next 1-2 years. Cuvée Guy Moreau takes its name from a 70-year-old block planted by Guy Moreau in 1934. It is 60/40 stainless steel/ barrel fermented blend with only 10 percent new wood used — the rest is a mix of one, two and three year old barrels.
Domaine Christian Moreau Chablis 1er Cru Vaillon 2004: 90/100
Attractive light lees, nutty, floral, melon, red apple, chalky citrus nose. Ripe, round, elegant and juicy with lemon, smoky, red apple, peach pit, butter and lees flavours. A bit lean on the finish but great balance and finesse. Drink now and over the next 2 years.
Domaine Christian Moreau Chablis Grand Cru Valmur 2004: 92/100
Flinty, smoky, green apple, citrus, passion fruit, floral nose with a touch of butter and vanilla. Fresh, crisp, round and juicy on the palate with lots of finesse. Floral, waxy, lemon, grassy, green apple and mineral flavours with a fresh peach skin, buttery finish. Fine balance but young - should improve over the next 1-2 years. Just over half of Valmur is aged in stainless vats. Forty-five per cent is done in barrels (90% in 1, 2 and 3 years old barrels, 10% in new and 1 year old barrels) for a period of six months.

Steve Tanzer's international Wine Cellar - Nov/Dec. 2006



Wine Spectator - 2004 Burgundy Preview
September 30th, 2006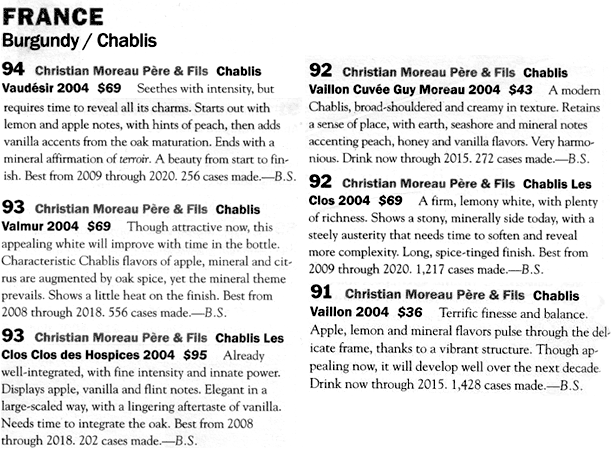 The Burgundy Briefing - Sarah Marsh



Page 1
Page 2
Page 3

Decanter Magazine - July 2006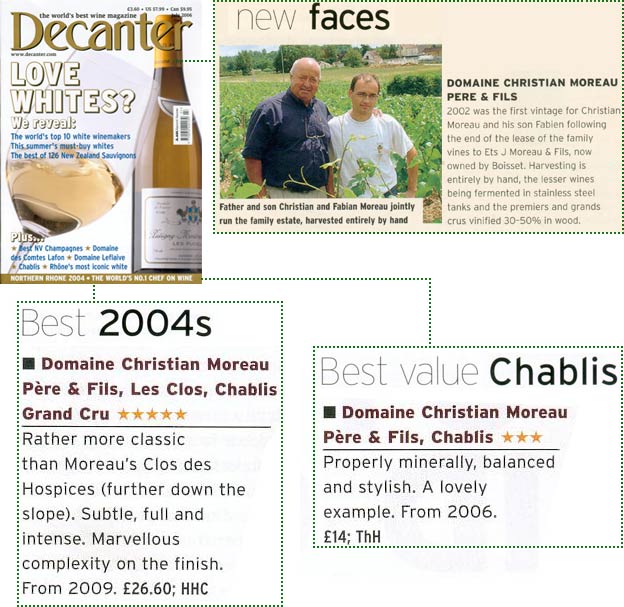 Bourgogne Magazine - June 2006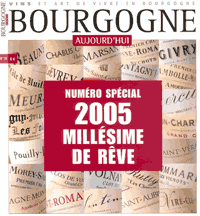 Click on the Picture to read the article
(in French)

La Revue du Vin de France - June 2006 - 1er Cru Vaillon 2004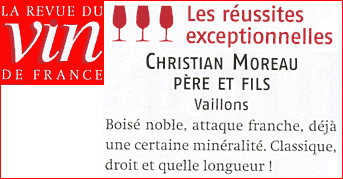 DECANTER WORLD WINES AWARDS - MAY 2006
Chablis Grand Cru Valmur 2004
Gold Medal
Chablis Grand Cru Les Clos 2004
Silver Medal

Wine & Spirit - May 2006 - Grand Cru Vaudésir 2002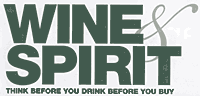 Wine Spectator - 2004 Burgundy Preview: Cellar Notes, Part 2
Tuesday, February 21, 2006

The best wines from seven more top domaines
On my trip to Burgundy, I evaluated the following wines at the domaines I visited. These wines are highlights among the barrel samples I tasted; they are all potentially outstanding (90-94 points on Wine Spectator's 100-point scale) or, in a few cases, classic (95-100). All the tastings were non-blind. Some 2004s have been bottled and are finished wines. Others were in the last stages of maturation and in preparation for bottling.

Domaine Christian Moreau Père & Fils
Chablis is on the way to Paris, so after I left the Côte d'Or I stopped to visit Fabien Moreau, who makes the wines at the domaine he owns with his father, Christian.

"It was normal, classic weather, except July and August, which were cooler than usual, so there was a quick start to the vegetation, then it slowed down during the summer," said Fabien Moreau of the 2004 growing season.

Because of the homogenous and prolific flowering, the crop was big—bigger than 2002. There were the same number of clusters, but they were larger, with larger berries and more juice. Yields averaged less than 3.5 tons per acre for the grands crus, 3.7 tons per acre for the premiers crus and 4 tons per acre for Chablis.

Christian and Fabien were worried when the grapes only showed 6 degrees of potential alcohol on Aug 10. However, the last week of August and first three weeks in September brought beautiful weather and, with it, maturity.

Oidium was a problem in 2004, especially in the Vaillons vineyard. Moreau eliminated the affected grapes in the vineyard at harvest.

The 2004s were bottled at the end of June (Chablis and premiers crus) and the beginning of September (grands crus).

The entire range showed the flinty, mineral character typical of Chablis. The Vaudésir was the most open of the grands crus, with floral, honey and mineral aromas and flavors. The Valmur was more reserved, but I got a sense of its density and power. Les Clos exuded mineral and hints of iodine and apple flavors, while the Clos des Hospices, from a small portion within Les Clos, was riper, showing peach and yellow plum notes.



Decanter Buying Guide March 2006




Recommended ***
Cuvée Guy Moreau 2004
Vanilla Bean, cream, Lactic mouthfeel, hazelnuts and honey, acidity kicks in beautifully, rich apple-pie style but also very fresh and poised. Drink now+ - 15,75

Vaillon 2004
Slightly honeyed, fine expansion of Chablis/Chardonnay. Full and very long, honey and white flowers, fine balance. 1-7 years - 16

Cuisine et Vins de France - February/March 2006