Wine Access Dec 07
Anthony Gismondi, Vancouver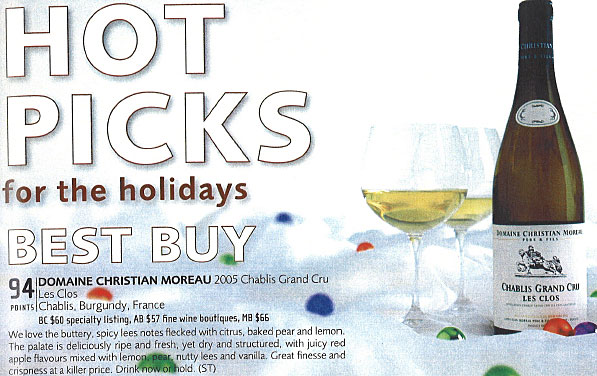 Bourgogne Aujourd'hui n°79 - Décembre 2007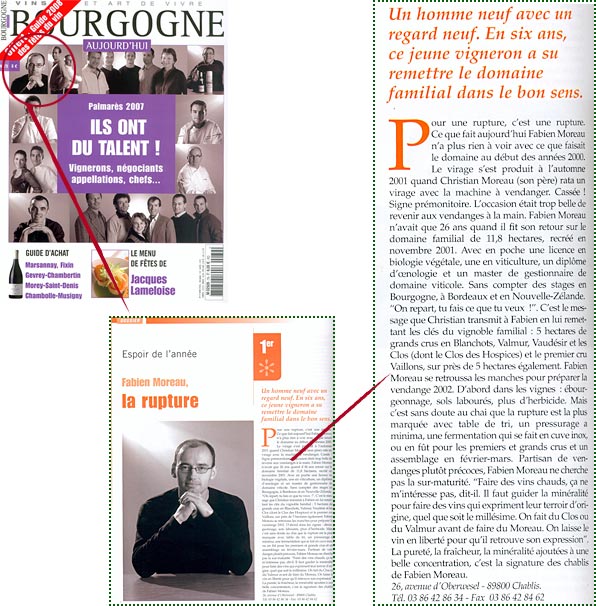 Wine Spectator - 30 Novembre 2007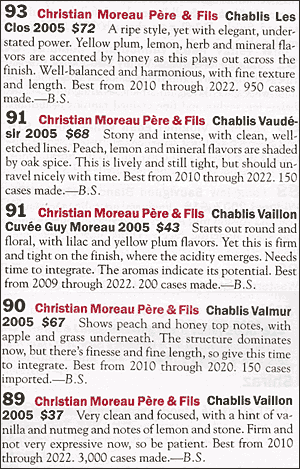 Anthony Gismondi Gismondi at www.gismondionwine.com (Vancouver, Canada)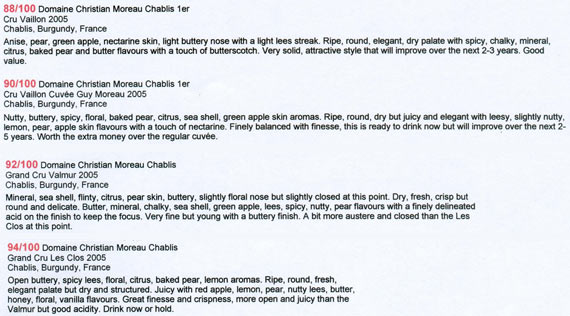 GUIDE HACHETTE DES VINS 2008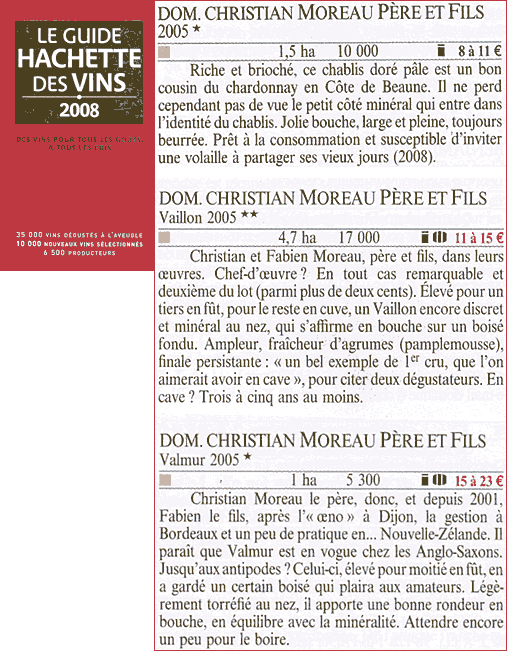 BOURGOGNE AUJOURD'HUI n°77 - Aout-Septembre 2007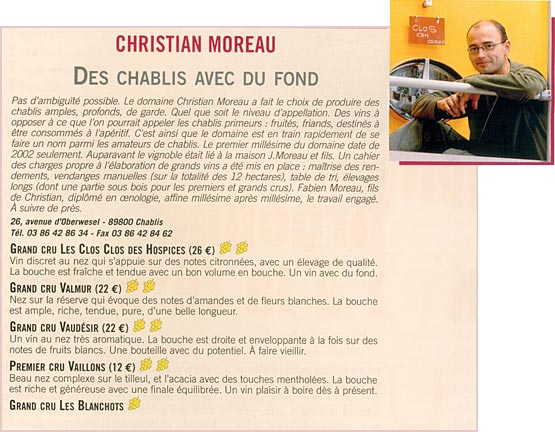 DECANTER MAGAZINE - Septembre 2007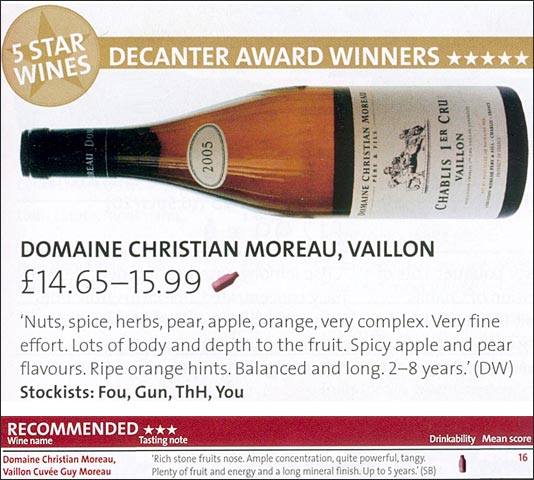 SAVEUR - Aout/Septembre 2007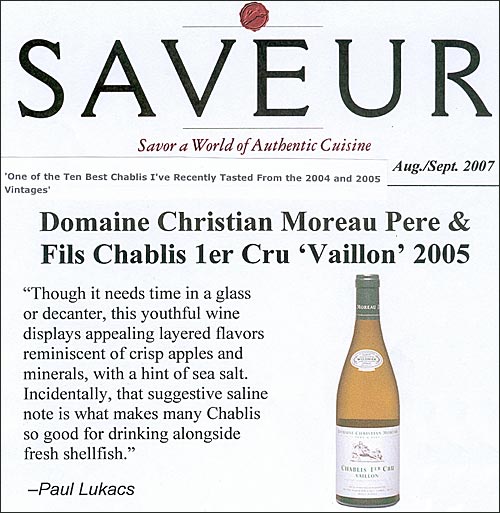 Steve Tanzer's international Wine Cellar - Juillet/Aout 2007

"The 2006s are similar to the '05s at the same stage," said Christian Moreau. "Both vintages have good acidity, but the acid levels are not like those of 10 or 15 years ago." Like a number of their colleagues in Chablis, Christian and Fabien Moreau make their wines in a combination of tank and barrel, matching the vinification and elevage to the needs of each parcel. Among the small but important improvements here in recent years is the care with which the various wines are tasted and tweaked during the winter after the harvest. Every barrel is tasted in January and the father-and-son team decide, among other things, which wines need to be moved out of wood and into tank, which barrels work best with which cru, and which barrel suppliers to eliminate for the next vintage. The Moreaus are also moving steadily toward the use of wild yeasts: for the first time, the 2007s will be fermented entirely with indigenous yeasts.

2006 Domaine Christian Moreau Pere et Fils Chablis : 88
(bottled two weeks before my visit) Grapefruit pith and white flowers on the nose. Stony, juicy and very dry; a classic, brisk, rather austere village wine. Persistent finish features good stony cut.
2006 Domaine Christian Moreau Pere et Fils Chablis Vaillons : 88-90 (70% vinified in tank and 30% in oak, less than 2% new) Good pale color. Steely aromas of lemon drop and pineapple, accented by a light spicy character. Juicy and brisk but supple, with a touch of sweetness to the grapefruit and pineapple flavors. Little sign of oak on the palate. Finishes fresh and pure, with a youthfully metallic quality.
2006 Domaine Christian Moreau Pere et Fils Chablis Vaillons Guy Moreau : 88-91
(40% oak; from 74-year-old vines) Musky aromas of lime, ginger and curry powder. Richer and more glyceral than the regular Vaillons, with noteworthy intensity to the ripe flavors of pineapple, lemon and licorice. A very suave and supple style, but currently showing more length but less obvious cut than the Vaillons.
2006 Domaine Christian Moreau Pere et Fils Chablis Vaudesir : 90-92
(fermented entirely in barrel, then aged half in tank and half in oak) Good pale yellow. Captivating aromas of grapefruit, lemon, white flowers and spices, with a white nectarine note emerging with air. Rich, ripe and broad, but with a silky texture and noteworthy delicacy. Intensely flavored and youthfully tight, with some oak spice showing today. A step up in length from the Guy Moreau, finishing with a suave suggestion of white grapefruit. The toasty spice note will disappear with aging, Moreau maintains: he was one of a couple of Chablis winemakers to tell me that it's often impossible to distinguish between a wine aged partly in oak and one aged entirely in tank after a decade in the bottle.
2006 Domaine Christian Moreau Pere et Fils Chablis Blanchots : 89(+?)?
(bottled a week before I tasted it; done entirely in barrel) Pale yellow. Sappy aromas of peach flesh, chlorophyll and charred oak. Supple, subdued and quite dry, with its fruit component currently shocked by the bottling. The grapefruit flavor is opposed by vanillin oak on the end, as well as a hint of youthful bitterness. Just three barrels produced. (By the way, the 2005 version was moved from oak to tank in April of '06 but still was the most obviously oaky of the Moreaus' wines from the earlier vintage.)
2006 Domaine Christian Moreau Pere et Fils Chablis Valmur : 91-94
(Pale yellow. Explosive nose offers sexy mirabelle, brown spices, baked bread and smoky silex notes; distinctly earthier and more deeply pitched than the Clos. Ripe, dense and powerful, with a silky texture to the rocky flavors of grapefruit and wet stone; clearly a wine from a very warm site. Boasts lovely sucrosite and generosity of texture and really spreads out on the palate. A showy wine with a rising whiplash of a finish.
2006 Domaine Christian Moreau Pere et Fils Chablis Les Clos : 93-95
(Pale yellow. Perfumed, refined aromas of citrus peel, powdered stone and violet; very high-pitched. Vibrant and precise in the mouth, with terrific energy to the flavors of citrus zest, grapefruit, underripe pineapple, flowers and powdered stone. Best of all on the tactile, palate-dusting finish, which boasts a bracing, refreshing bitter edge and outstanding subtle persistence. Forty percent of this cuvee is aging in barriques but the wood element is all but invisible.
2006 Domaine Christian Moreau Pere et Fils Chablis Clos des Hospices : 92-94
(aging in 50% new oak) Very good pale yellow. Very ripe aromas of pineapple and spicy oak, with heavier suggestions of candied fruit and fruit syrup. Rich and oily in the mouth, with flavors of pineapple nectar and flowers. Despite its depth of texture, this is quite dry and austere today, with a substantial structure for aging. Finishes broader and oakier than the "regular" Clos. The Clos des Hospices is located low on the hill, where the soil is deeper and there's more humidity.




Chablis is Chardonnay
Anthony Gismondi Gismondi at www.gismondionwine.com (Vancouver, Canada)
16 Juin 2007
We head to France today, for an update on Chablis. Although often linked to the entire 25,000 hectare Burgundy region, Chablis with its four official appellations or classifications, has managed to maintain its status as a unique sub-region and a fine producer of serious white wine.

(...) For me, Chablis is the quintessential food wine. In a world full of flabby, sweet whites, it is the perfectly chiselled six-pack abs. Its prominent acidity, crisp dry flavours and nuances of seaweed make it the classic oyster companion, although roasted chicken, Dover sole and grilled prawns will all work at the dinner table.

The best news of all is the quality of the 2004 vintage (very good), and the 2005 (outstanding), leaves consumers with a fair bit of choice. If ever there was a time to discovery or revisit the wines of Chablis this is it.

(...) The Domaine Christian Moreau Chablis 1er Cru Vaillon Cuvee Guy Moreau 2004 has a bright nutty, mineral, floral nose with citrus notes. On the palate it tastes of green apple, lees, butter, lemon, anise and mineral/wet stone flavours. Cuvee Guy Moreau takes its name from a 70-year-old block planted by Guy Moreau in 1934.

The prize of the current Chablis list in government stores is the Domaine Christian Moreau Chablis Grand Cru Les Clos 2004. Les Clos is always intense. Its fresh but delicate style gives way to a juicy green apple flavours flecked with lemon and floral, spicy butter flavours and a delicate vanilla, apple skin, citrus finish. A terrific bottle of French chardonnay you can drink now or hold through 2010. (...)

DOMAINE CHRISTIAN MOREAU CHABLIS 1ER CRU VAILLON CUVEE GUY MOREAU 2004, FRANCE
Score: 91/100
Remarks: Bright nutty floral lees and creamy citrus notes

DOMAINE CHRISTIAN MOREAU CHABLIS GRAND CRU LES CLOS 2004, FRANCE
Score: 92/100
Remarks: Floral, lemon, green melon, seashell, with touch of butter.

La Revue du Vin de France - Juillet/Aout 2007

Jancis Robinson on Wine - Financial Time US Edition - 11 Mars 2007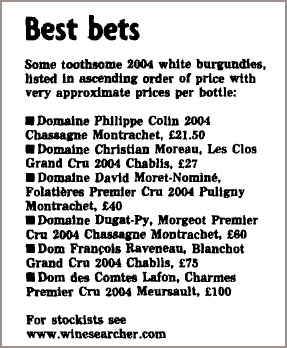 Decanter Magazine - Février 2007